SUBLIME FREQUENCIES COMMUNIQUÈ
SUBLIME FREQUENCIES PO BOX 17971 SEATTLE WA 98127 USA
http://www.sublimefrequencies.com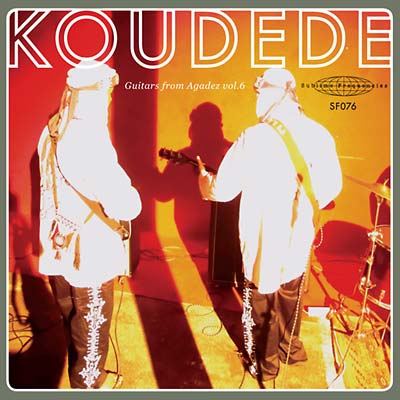 The second 7" from
Koudede
for Sublime Frequencies and the sixth volume in the now-legendary
Guitars from Agadez
series. The circumstances surrounding these recordings are the stuff of which legends are made: In January 2012, a major insurgency brewing in the far north of Mali turned Timbutku's Festival au Désert into a heavily fortified spectacle. Just one day after the festival, rogue Tuareg rebels launched a full takeover of northern Mali, armed to the teeth with weapons from the Libyan war that ended in the murder of
Col. Gadaffi
, the spiritual father of the Tuareg in their struggle with the surrounding governments. By the time Koudede's group made it back to the capital city of Bamako -- with Sublime Frequencies'
Hisham Mayet
in tow -- discord had flared between the mostly Bambara ethnic south and the Tuareg community in the capital region. With a Tuareg exile already in progress, Koudede decided after much hesitation to follow through with a live concert at Toumast -- the Tuareg compound in Bamako -- in defiance of advice that all Tuareg should leave the city immediately. Recorded on location at Toumast by Hisham Mayet in January 2012, these two tracks are a scorching distillation of the urgency and fire in Koudede's music: the pure sound of his people and their constant struggles. Limited edition of 700 copies.
p.s. With deep regret, Sublime Frequencies is saddened to confirm that on October 28th, 2012, Koudede was pronounced dead from a fatal accident on the road back to Niger from a gig in Burkina Faso. This news was delivered the same day as the test pressing was approved for this release. His legacy will live on through his music. RIP Koudede!
CEREMONIAL PAGENTRY IN THE SAHEL
Directed by Hisham Mayet
SF075 DVD


Sublime Frequencies announces a new film by
Hisham Mayet
:
The Divine River: Ceremonial Pageantry in the Sahel
. Condensed from 40 hours of footage shot between 2007 and 2012,
The Divine River
is an exhilarating, hallucinatory, harrowing record of music, ritual, life, and landscape along the Niger River -- which the Tuareg call "Egerew n-Igerewen," or "River of Rivers" -- as it winds through Mali and the Republic of Niger. Traversing 300 miles of this transitional zone between the Sahara and the Savanna,
The Divine River
is not a linear record of a journey so much as a phantasmagoria of visual associations that create their own emotional topography and chronology (always accompanied by music) that blurs the lines between sacred and secular, past and present. Highlights include intimate views of ecstatic dance in the painted houses of the island-dwelling Wogo; the seductive courtship rites and trance vocals of young Wodaabe men; a mesmeric Tuareg and Zarma duet for guitar and molo; Hausa griots enchanting with comsaa strings; Zarma spirit possession ceremonies; and heart-stopping footage of the Dogon mask ritual atop the Bandiagara Escarpment in the village of Endele. True to Sublime Frequencies' "aesthetic of extra-geography and soulful experience,"
The Divine River
refuses hasty contextualizations and rote interpretations that, far from "explaining" cultural displays, deaden viewers to the presence of mystery. Avoiding the temptation to reduce ritual to a simple matter of ends and means, its silence respects the chasm that separates concepts like "possession" from their lived reality. Rejecting the distractions of an imaginary understanding in favor of simple attention and humility, it traces the portal to deeper knowledge counseled in a centuries-old Sufi prayer: "O Lord, increase my bewilderment." 47 minutes/color; digipack; all-region DVD, NTSC format. Limited one-time edition of 1,000 copies.
SUBLIME FREQUENCIES is a collective of explorers dedicated to acquiring and exposing obscure sights and sounds from modern and traditional urban and rural frontiers via film and video, field recordings, radio and short wave transmissions, international folk and pop music, sound anomalies, and other forms of human and natural expression not documented sufficiently through all channels of academic research, the modern recording industry, media, or corporate foundations. SUBLIME FREQUENCIES is focused on an aesthetic of extra-geography and soulful experience inspired by music and culture, world travel, research, and the pioneering recording labels of the past including OCORA, SMITHSONIAN FOLKWAYS, ETHNIC FOLKWAYS, LYRICHORD, NONESUCH EXPLORER, MUSICAPHONE, BARONREITER, UNESCO, PLAYASOUND, MUSICAL ATLAS, CHANT DU MONDE, B.A.M., TANGENT, and TOPIC. SUBLIME FREQUENCIES PO BOX 17971 SEATTLE WA 98127 USA