SUBLIME FREQUENCIES COMMUNIQUÈ
SUBLIME FREQUENCIES PO BOX 17971 SEATTLE WA 98127 USA
http://www.sublimefrequencies.com
OUT NOW!
1970's ALGERIAN PROTO-RAI
VA CD - SF045
To hear samples and order — Forced Exposure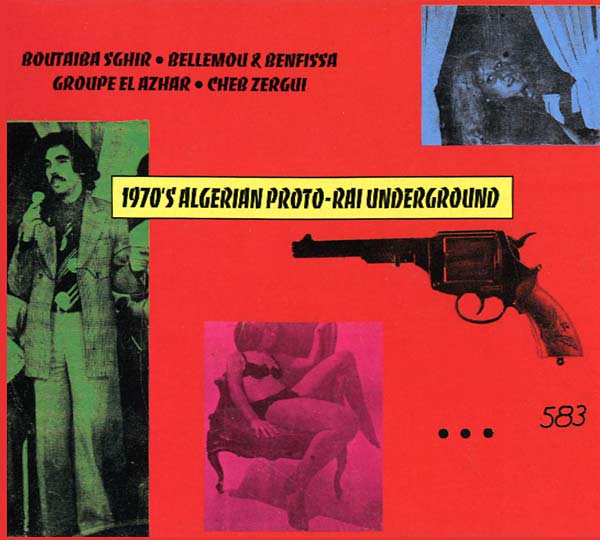 This is a new 2014 digipak designed CD repress of the limited LP pressing which sold out almost immediately when released in 2008. This is
Raï
music from Algeria as you've not heard it before. In the early 1970s, a new group of singers and musicians were operating on the northwest coast, and what they pioneered was a sound that eventually reached worldwide status by the end of the decade; however, their names are relatively unknown to this day outside Algeria. This crucial and defining period of the development of
Raï
is criminally ignored and overlooked by Algerian music historians and
Raï
fans. Due to censorship and government-controlled music diffusion, this scene and lyrical style was forced underground and banned from broadcasts, yet slowly built a small following around the seaside cabarets of Wahran (Oran). This period witnessed the rise of artists such as
Groupe El Azhar
("The Flowers" group) and
Messaoud Bellemou
, who can comfortably be considered the Godfather of the modern
Raï
sound. His group,
L'Orchestre Bellemou
, rewrote a heritage of centuries by using modern instruments and especially the trumpet, which became, during the 1970s, the backbone of the
Wahrani
genre. Reinterpreting the
gasba
melodies on trumpet, Bellemou backed singers such as
Boutaiba Sghir
and
Sheikh Benfissa
who carried on the lyrical tradition of their forefathers singing about daily preoccupations and problems as well as love affairs, alcohol, or simply owning an automobile! Toward the late 1970s,
Cheb Zergui
brought a newer ingredient: an electric guitar with a wah-wah pedal. Thankfully, the late 1960s saw the development of vinyl pressing in Algeria. This new industry allowed many small artists including the
Wahrani
"scene" to record and release singles documenting their repertoire. This compilation is a selection of this proto-Raï scene's vinyl 45s. CD booklet features photos of the musicians & informative liner notes by the man who compiled it,
Hicham Chadly
.